A Talented Artist Based in The Ocean State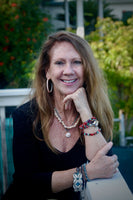 About the Artist - Tracy
"Art was a natural activity for me in my childhood and growing up years.  At age 19, in the jungle of Haiti, I discovered my passion for sketching portraits. Without electricity, by the light of a kerosene lamp in the evenings, with National Geographic Magazine being the only printed material available, I began to draw detailed, penciled- portraits from the published photographs.

Upon returning to the states, I studied two years under the very talented and successful artist Dan Petersen, a well-known California watercolorist.  His enthusiasm for teaching nurtured my soul and skill as he passed along his awe for the life that water and paint have on its own, once mixing and flowing together on paper.

Thus, years, marriage and children later, I began combining my own Haitian photos with my own joy for watercolor.

As phases in my life forge ahead with change, so does my art. With long dry spell's in between, I have yet to maintain a recognizable and consistent artistic style. Uncharted paths and unknown quests loom from each empty sheet of paper and daunting white, unpainted canvas.

Please enjoy my journey with me while viewing my past pieces, more recent pieces and new art, as I set out to experience new adventures ahead."
- Tracy